Add Story
Share your stories of times with Matt at easyJet.
easyJet Captain
Charles Bass | May 9, 2015 9:18 am
It is with great sadness I heard about this recent event.
As an Easyjet Captain, I remember having flown with Matt a couple of time.
Unfortunately, some bad news arrived yesterday from DUKE University, NC.
It seems I have been badly contaminated as well.
I will be happy to help.
EasyJet the early days
Charles Bass | February 13, 2015 3:07 pm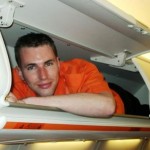 Matt joined easyJet in 1999 and appeared in the first easyJet programme on TV during his training. He went went Liverpool when easyJet started and then Gatwick then he became easyJets youngest purser, Because of his languages he was seconded to Geneva for 6 months, then Nice for 3 years flying as a supernumerary only doing announcements in French, sitting on the beach and eating at Popeye's. He then went to Berlin for a year and finally to Paris. He met some great friends at easyJet who are still close to his parents and brother.